No matter how you define it, human resources is one of the most challenging parts of the corporate intranet to implement and manage.  The information is both he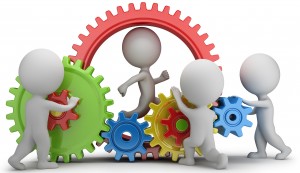 avily content-based and highly functional – a place to view core guidelines and policies but also the starting point for a number of people related processes.
OCHRE is a 'next generation', fully customised, intranet portal for your managers. It coaches and empowers them to do a better job of their everyday people management responsibilities. That in turn delivers better business performance. OCHRE becomes your first line of HR service delivery, coaching managers on 'what' to do and 'how' to do it. It is a portal to your other HR software and compatible with your HRIS. Manager self-service using OCHRE enables a leaner HR function where professionals are freed up for higher value internal 'consulting' work. Think of OCHRE as self-help apps for managers in all the areas shown on the example homepage below. Hover over each  icon (beginning with the  Ochre logo) to see how Ochre will empower your managers and improve the productivity of you HR team.  To show you what content pages look like, turquoise text links you to another layer within a typical Ochre HR intranet.
Hi, I'm Ochre (Our Coach for HR Excellence). Let me show you how I can help your managers do a better job of their day-to-day people management responsibilities and improve the productivity of your HR team. I'm a 'next generation' intranet site and your managers access me from your current intranet homepage. Finding what they need is easy. We create icons for the most commonly needed areas and there's a comprehensive drop-down menu and a search function. Of course, everything you see here can be customised to your specifications – that's part of the package. My Wikipedia type links help users get as much background info as they need. I explain all your important processes and the manager's role and responsibility. My role is to Coach so I don't just store documents like your current intranet. I explain why we do things and offer detailed step-by step process guides, conversation plans, tips, and templates. So have a look around, hover over the icons and I'll explain what I can do for you.
My search function helps managers find the information they want.
Recruiting effectively: I guide managers step-by-step through their role (often using a flowchart process) in best practice recruiting including; defining the need, getting approval, advertising, short listing, interview, selection, testing, verbal offers and declines. Resources include; the impact of legislation on approval to hire, job descriptions, advertising templates, employment applications, short listing templates, interview questions, reference check form, decline letter. If you use recruitment software I explain how and when to use it and link managers to your software.
Understanding and applying employment agreements and putting the right employment agreement in place: I explain the correct use of various employment options such as; temporary, part-time, casual etc employment and either enable them to generate correct employment offers or obtain them through HR. I also help managers get approval for and document changes in terms and conditions.
Induction or on-boarding: I guide managers through your induction process helping them design and deliver a tailored program that gets people fully functional as quickly as possible.
Setting high expectations and standards: I emphasise the importance of managers setting high standards/expectations for employees both post induction and as necessary thereafter. My resources include a 'conversation plan' to prepare and hold these vital conversations and advice on how to monitor performance.
Monitoring performance: I guide managers through your performance management process and explain any online system you use. Alternately, Ochre contains a simple annual cycle of discussing goals, development and performance through the year. Our system is driven by your business planning/budget process and includes step-by-step resources for managers and employees including how to align individual goals with business goals and hold goal setting and 'on-track' review conversations.
Getting performance back on track: Ochre enables managers to diagnose and handle all manner of performance and behaviour issues and turn these situations around. The approach centres on thorough preparation for and holding a good quality 'coaching conversation'. There is particular advice on handling common problems such as; absenteeism, lack of understanding of job requirement; lack of competence or commitment; lack of time/materials; personal/non-work factors; repetition of performance failure; minor behaviour/misconduct etc.
Implementing warning and dismissal processes: I guide managers through their responsibilities (including when to involve HR) where a disciplinary process is required. I explain the legal basics and step managers through their role in; preliminary investigation, stand-down, investigation, disciplinary interview, decision-making, choosing a penalty (including weighing mitigating factors) and the implementation of warnings, dismissal or alternative remedies. I offer specific advice on how to handle; persistent absenteeism, dishonesty, disobedience / refusal of instructions, harassment, intimidation and assault etc.
Employment relationship problems: I explain your process for handling employment relationship problems (including the legal background) so managers can play their part and I explain what managers may need to know about; personal grievances, grievance procedure, remedies etc.
Managing Health and Safety: I explain your policy in this vital area, define the managers responsibilities and their required H&S calendar activities providing all the templates and forms they need to complete those activities. If you use software such as Vault, I explain its use and link them to it.
Wellbeing:  I provide access to any workplace wellness programme that your business provides and details of any  initiatives your managers have access to that can help them better support their people.
Giving feedback & coaching: I offer managers tips, conversation plans and templates on giving feedback and coaching their people to recognise and improve performance and to develop capability.
Managing exits: I sometimes need to help managers with questions about resignations or non-disciplinary termination including; termination for medical incapacity, abandonment, restructuring and redundancy etc. Typically I explain the basics in a flowchart, but refer them to HR.
Managing remuneration: I help managers understand our remuneration policy, review process, and guide them through their role in the annual review process.
Giving praise and recognition: If you have awards or an established recognition program, I explain that to managers so they can answer questions and sell its advantages to your employees.
On-the-job training: The best job training happens at work. I offer managers a range of proven options for developing their people on the job. These involve using our 'experts' or carefully chosen external people as teachers or coaches to help your employees develop capability they need now and in the future.
Leading change: We expect our leaders to be progressive, forward looking and constantly look for ways to improve the organisation. But leading change successfully is challenging and takes skill, planning and support. I provide a range of tools to help managers plan and implement change.
Effective delegation: Effective delegation is a skill managers can develop which delivers a genuine 'win-win' result for manager and employee. I offer simple tips, techniques and tools to help managers delegate more successfully.
Developing teams and team members: I explain your leadership development policies and options, and point people in the right direction for further assistance.
Policies: My policies section holds all your people policies in one place along with the forms managers use to get things done. Where you have a policy 'gap' (e.g. handling absenteeism) – no problem, I've got one you can use.
Ask HR: Sometimes managers need more than my advice so I point them in the right direction and connect them with the right member of the HR team.
FAQs: To help your managers get answers fast, and to save your HR team's time, I offer a set of FAQs about any aspect of people management you wish. Of course, you can update these to keep things current.
Employment law summaries: More than 16 pieces of legislation impact, to varying degrees, our obligations and rights as employers. I offer simple 'plain English' summaries of this legislation as a reference tool for managers.
Growing engagement:  Your managers have the greatest influence on your peoples engagement levels. The people hired, the climate and standards set, the behavior encouraged or discouraged, the feedback given, the development opportunities created – all contribute to engagement and hence to the performance of your people. I help your managers understand the importance of engagement and give them ideas on how they can grow engagement within their team.
Bringing your values to life: Your company's values determine how you go about delivering on your vision. I help your managers make your company's values a reality across all aspects of their day to day managerial responsibilities.
Leave:  Your managers need to understand and manage a variety of leave entitlements, and approve leave requests whilst also ensuring that business requirements are met. In this section I outline those entitlements and help them go through the appropriate approval processes for leave.